John the ripper cracking windows password. John the Ripper password cracker
John the ripper cracking windows password
Rating: 8,8/10

495

reviews
*New* John the Ripper
It uses a wordlist full of passwords and then tries to crack a given password hash using each of the password from the wordlist. After that command, you will see that it would have maked a text file. If you run john and it successfully cracks a password it will store it in a file called john. It can also perform a variety of alterations to the dictionary words and try these. John the Ripper is different from tools like Hydra. This should be a great data set to test our cracking capabilities on.
Next
Hack Windows Password Using Pwdump and John The Ripper
In other words its called brute force password cracking and is the most basic form of password cracking. Rainbow tables on an exceptionally essential level store central words and hashes in a database. But now it can run on a different platform approximately 15 different platforms. Security-related tools are often like a double-edged sword, in that they can be used for good but also for bad things. Historically, its primary purpose is to detect weak Unix passwords. John the Ripper is a free and fast password cracking software tool. To begin with we should make a customer named john and distribute mystery word as his watchword.
Next
Cracking password in Kali Linux using John the Ripper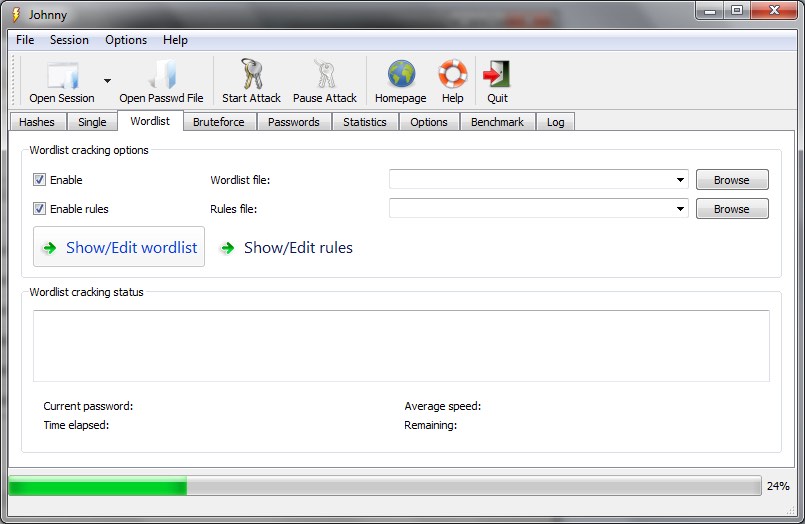 Using John the Ripper You need not worry about cryptic configuration files, as John is ready to use with the appropriate command-line flags with no other effort on your part. It doesn't matter how tough and complicated password you have set, using this tool will completely reset and from your computer. So you will require information about every version and it also contains tricks and hints through which you can master this amazing password cracking software. Instead they store hashes of passwords and when authentication takes place, the password is hashes and if the hashes match authentication is successful. The wordlist should not contain duplicate lines. At first it will utilize the password and shadow record to make a yield report. See for a reasonable order of cracking modes to use.
Next
John the Ripper password cracker
However, you can modify the config file to alter the way the mangling is done. A step-by-step guide will be appreciated, I- have read many tutorial but still didn't find my exact issue. Usually written in a subset of C. It is one of the most popular password testing and breaking programs as it combines a number of password crackers into one package, auto detects password hash types, and includes a customizable cracker. Finally, you might want to e-mail all users with weak passwords to tell them to change their passwords.
Next
Crack Windows password with john the ripper
You can make John skip those in the report. To just use this mode do the following: txt 2 Wordlist Mode In this mode, John is using a wordlist to hash each word and compare the hash with the password hash. In kali linux many wordlists are available that can be used in cracking. This is not always a good idea, though, since lots of people do not check their e-mail or ignore such messages, and the messages can be a hint for crackers. External mode, as the name implies, will use custom functions that you write yourself, while wordlist mode takes a word list specified as an argument to the option it can be a file with a list of words written one per line, or stdin and tries a simple dictionary attack on passwords. You can select what mode to use with, for example, —single, —external and so on.
Next
Cracking Passwords Using John the Ripper « Null Byte :: WonderHowTo
Use the show option to list all the cracked passwords. Keep the device connected to the computer the entire time until it is finished. Basically, it is a quick to scan weak passwords. Cracking Linux User Password 2. Like we said before, this could take many days. Total cracking time will be almost the same, but you will get some passwords cracked earlier, which is useful, for example, for penetration testing and demonstrations to management. You can find online wordlists from passwords cracked during major hacks.
Next
Cracking linux password with john the ripper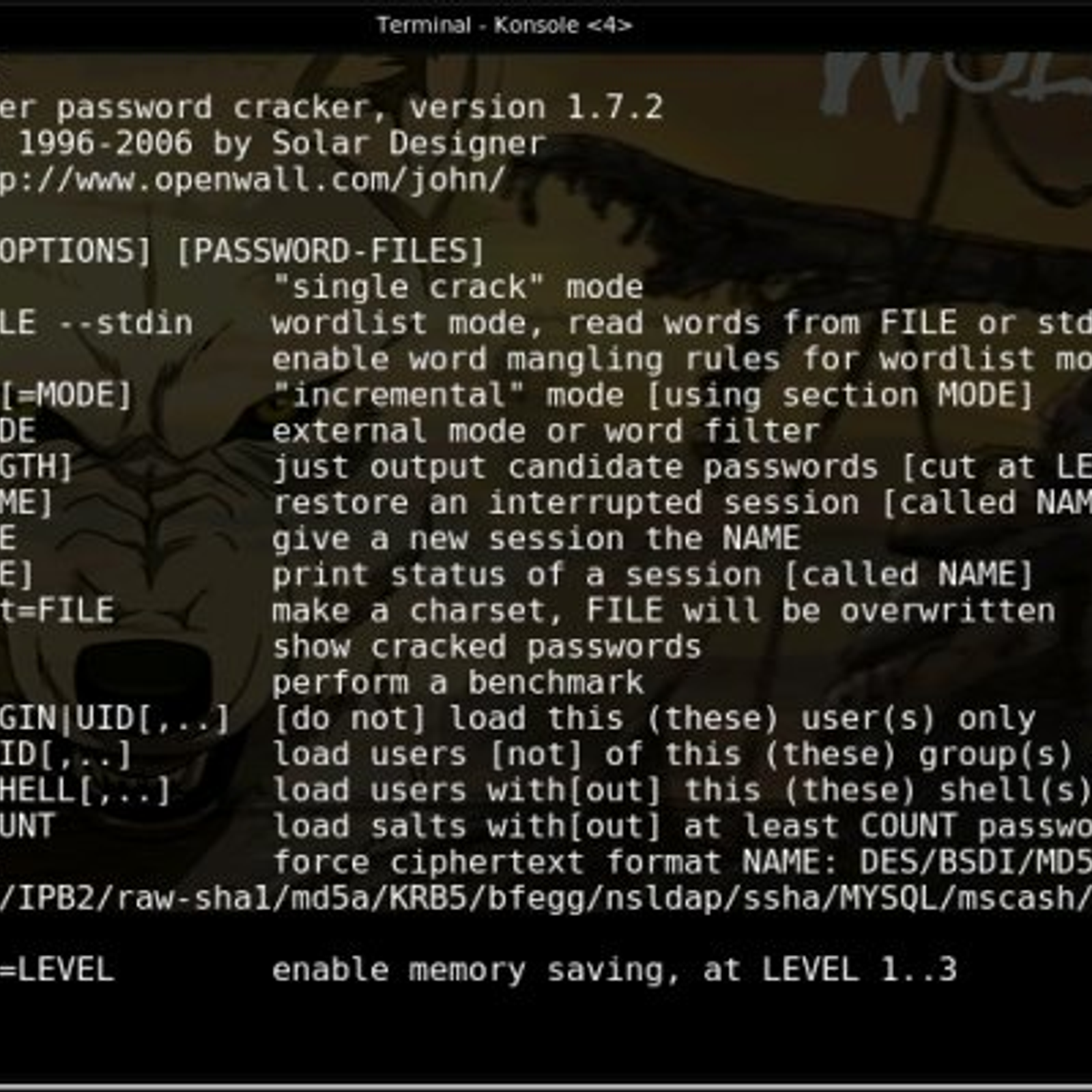 No password in the provided wordlist could crack it. Depending on target hash type, the number of different salts if applicable , the size of your wordlist, rules, and processor performance, wordlist-based cracking may take anywhere from under a second to many days. If the hash tables was not complete, then it would takes days to finally. The more crucial test for a designer is to get the Hash Specifically a days hashes are all the more effortlessly crackable utilizing free rainbow tables accessible on the web. Cracking process with John the Ripper At this point we just need a dictionary file and get on with cracking.
Next
John the Ripper Free Download (v1.8.0) 2019
Note that running this mode on many password files simultaneously may sometimes get more passwords cracked than it would if you ran it on the individual password files separately. Larger the database, more the words covered. You can either use a pre-defined incremental mode definition or define a custom one. John the Ripper is one of the most common and powerful password crackers on the market. Select the flash drive that you just inserted and press enter. The hashes are stored in that file.
Next
Crack password using John the Ripper
Cracking password in Kali Linux using John the Ripper is very straight forward. Navigate to the folder where you extract the PwDump7 app, and then type the following command: PwDump7. John also offers a brute force mode. I have already written articles on How you can hack windows passwords Using various tools such as , and i have also written an article on how to hack windows password using. Then run: mailer mypasswd Configuration file. Although, it can be only useful if you are using a simple password or a dictionary based password.
Next